Saturday, 27 March 2021
7:30 p.m. MDT
(2021-03-28 1:30 a.m. UTC/GMT)
AARP HomeStream Your Helena Symphony
The greatest living clarinetist returns! Ricardo Morales performs Copland's lyrical and jazz-influenced Clarinet Concerto that was composed for the legendary swing musician Benny Goodman. Mendelssohn's Scottish Symphony gives us a musical escape to find rejuvenation through sentimental songfulness.
Watch live on YouTube.
Saturday, 27 March 2021
HELENA SYMPHONY ORCHESTRA
COPLAND
Clarinet Concerto
Mr. Morales, Clarinet

I. Slowly and expressively –
II. Cadenza –
III. Rather Fast

–– Intermission with Back Stage Interviews ––
MENDELSSOHN
Symphony No. 3, Scottish, Op. 56, Scottish
I. Andante con moto –
Allegro un poco agitato –
Andante come prima –
II. Vivace non troppo –
III. Adagio –
IV. Alegro vivacissimo – Allegro maestoso assai

SHARE AND VIEW YOUR PHOTOS LIVE!
Share your viewing party photos live on our PhotoStream. To get started, text ON to 406.412.2014.
View PhotoStream
Currently in his eighteenth season as Music Director of the Helena Symphony Orchestra & Chorale, Maestro Allan R. Scott is recognized as one of the most dynamic figures in symphonic music and opera today. He is widely noted for his outstanding musicianship, versatility, and ability to elicit top-notch performances from musicians. SYMPHONY Magazine praised Maestro Scott for his "large orchestra view," noting that "under Scott's leadership the quality of the orchestra's playing has skyrocketed."
Returning to Helena, audience favorite Ricardo Morales is one of today's most in demand Clarinetists.  He joined The Philadelphia Orchestra as Principal Clarinet in 2003 and made his solo debut with ‪the orchestra in 2004.  He previously served as Principal Clarinet of the ‪Metropolitan Opera Orchestra, where he appeared as soloist at Carnegie Hall and on two European tours.  Mr. Morales has been a featured soloist with the Chicago Symphony, Cincinnati Symphony, Indianapolis Symphony, Seoul Philharmonic, Columbus Symphony, Memphis Symphony and the Flemish Radio Symphony.  In addition, Mr. Morales was a featured soloist with the US Marine Band, "The President's Own", recording Jonathan Leshnoff's Clarinet Concerto, a piece commissioned for him by The Philadelphia Orchestra.
About the Program – By Allan R. Scott ©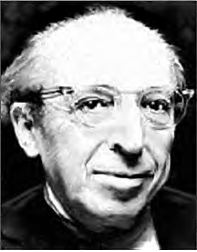 Born: Brooklyn, NY, 14 November 1900
Died: Peekskill, NY, 2 December 1990
"I felt that it was worth the effort to see if I couldn't say what I had to say in the simplest possible terms."  -- Aaron Copland
Clarinet Concerto
Copland's Clarinet Concerto is scored for solo clarinet, piano, harp, and divided strings.
Duration: 16 minutes
Harry S. Truman narrowly wins re-election for U.S. President
Gandhi is assassinated
NBC began its nightly newscast
Cole Porter's musical Kiss Me, Kate debuts on Broadway
TV Guide is first published
Film Treasure of Sierra Madre opens
New York City Ballet is founded
NASCAR was founded
Richard Strauss composes' Four Last Songs
First tape recorder is sold
Goodrich creates tubeless tire
Aviation pioneer Orville Wright and author Zelda Fitzgerald die
Broadway composer Andrew Lloyd Webber, Vice President Al Gore, ballet dancer Mikhail Baryshnikov, and Charles, Prince of Wales, are born
Standing as we do at the close of the "American century," the hundred year period during which the United States was, for the first time, a major power and contributor to the world economically, politically, and culturally, the question that composer Antonín Dvořák posed almost a century ago still remains for us: what is "American" music? 
Ralph Vaughan Williams, the grand old man of English music, declared that music, above all other arts, is "the expression of the soul of a nation."  Today, Aaron Copland's name is synonymous with "American music" more than any other composer, even more than George Gershwin or Leonard Bernstein.
With the musical world still quivering from the impact of Igor Stravinsky's Rite of Spring (1913), Copland sought to recapture an America before the world wars; before its loss of innocence. By comparison, Leonard Bernstein depicted a postwar America, one increasingly divided along racial, religious, and political lines.
After studying with Rubin Goldmark (who studied with Dvořák) and Nadia Boulanger (a student of Gabriel Fauré), Copland learned, and eventually preached, the importance of finding one's own musical voice.  Like most composers of the late nineteenth and early twentieth centuries, Copland composed initially with little or no regard for the listener – composed for the sake of composing. 
With technological advances, such as the ability to permanently record live sound or broadcast it over airwaves, Copland changed his way of listening to and ultimately composing music.  Copland is perhaps the first major composer who finally realized and appreciated the importance of the listener beyond the concert hall.  "I have every reason to be particularly grateful to the creator of the phonograph," he said.  "We composers owe a profound debt to Thomas Edison!" 
This son of Russian Jewish immigrants quickly began to lead many of his fellow American artists in a commitment to capturing a wider audience and speaking to the concerns of the average citizen, the everyday American caught up in the dramas of the Great Depression and the Second World War.        Copland responded to America's calling for culture, pride, and patriotism.  Though he represented the pinnacle of an intense mid-century Americanism, Copland was not an insular nationalist; on the contrary, he was acutely interested in world politics and in how the United States fit into the larger sphere. 
As the United States crept towards and through World War II, Copland was so distracted by what he read in the papers that he found it sometimes difficult to concentrate on composing.  During the 1930s Copland was often associated with more liberal ideas, but he was always honest, saying "musicians make music out of feelings aroused out of public events."
During these times of global uncertainty and fear, Copland produced several works that were specifically and obviously related to the war effort.  His Lincoln Portrait, in which a narrator recites Lincoln's thoughts on democracy and duties of citizenship, premiered in 1942, and several months later Copland accepted a commission "to boost American spirits" and composed his world renowned Fanfare for the Common Man.  He continued to capture and honor the roots of America's heritage and the soul of the country's present and future with his ballet Rodeo and his Third Symphony – perhaps the true great "American symphony."
Even though Copland's definitive musical voice captures a naïve Americana, he also embraced the musical trends of his time, specifically jazz and the music of Latin America.  Copland collaborated with many of the great musicians, choreographers, and fellow composers of the twentieth century.  The coupling of legendary clarinetist Benny Goodman and Copland still remains one of the most exciting partnerships in all of American music. 
When the "King of Swing" approached Copland about composing a concerto for clarinet, he "paid two thousand dollars and that's real money," said Goodman.  "I made no demands on what Copland should write.  He had completely free rein…"    In addition to Goodman's career as a clarinetist and bandleader, he was a classically trained musician and recorded Mozart's Clarinet Concerto, and also commissioned a work for clarinet by Béla Bartók. 
Combining his trademark sounds with his interest in jazz, Copland created a work that is seemingly not jazz-inspired at first.  In addition to the solo clarinet, Copland only used a harp, piano, and strings.  "I used the slapping basses and whacking harp sounds to simulate the jazzy effects," explains Copland.  Composed in two movements (instead of the conventional three movements), the Clarinet Concerto opens with a wonderfully ponderous string accompaniment, as the clarinet solo sings a lilting theme.  The clarinet solo's ability to blend with strings creates a sense of longing and time standing still.  Connecting the two movements without pause is the cadenza, where the soloist plays without accompaniment from the orchestra.  Copland shows the virtuosity of the instrument as the concerto transitions to a jazz-infused, Latin dance.  The strings, harp, and piano rhythmically return as the soloist races to the finish with an enormous jazz glissando (aka "smear"). 
Goodman premiered the Clarinet Concerto in 1950 on a radio broadcast with the NBC Symphony Orchestra.  Two weeks later, clarinetist Ralph McClane gave the piece its premiere with the Philadelphia Orchestra, and the following year, choreographer Jerome Robbins set his ballet The Pied Piper to the Concerto, giving the work critical acclaim.  While it may have cost Benny Goodman two thousand dollars for Copland to write a concerto, the legacy of Goodman and Copland's Clarinet Concerto have become priceless.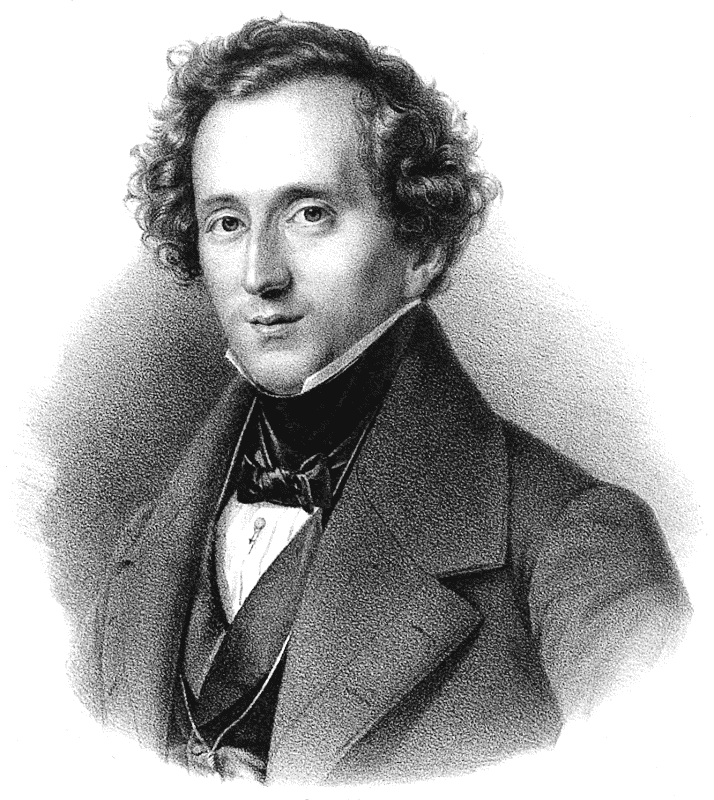 Born: Hamburg, Germany, 3 February 1809
Died: Leipzig, Germany, 4 November 1847
Symphony No. 3 in A minor, Op. 56, Scottish
The Scottish Symphony is scored for two flutes, two oboes, two clarinets, two bassoons, four horns, two trumpets, timpani, and divided strings.
Duration: 40 minutes
Mendelssohn's Scottish Symphony is actually his fifth and final symphony.  The numbering system has more to do with when the works were published.  The order of his symphonies is actually: 1, 5, 4, 2, 3.
U.S. and Britain settle dispute over Canadian border
U.S. passes first child labor laws
New York Philharmonic gives first performance
Mount St. Helen's erupts in Washington state
Jules Verne writes Around the World in 80 Days
Composers Sir Arthur Sullivan and Jules Massenet, Outlaw Jesse James, and German astronomer Hermann Karl Vogel are born
Paper becomes used for Christmas cards
Sewing machine patente
 It is often suggested that in order to truly be a great artist of any kind, one must endure a certain amount of suffering.  This thought has never been more false for the career of Felix Mendelssohn.  Few composers have been born into such congenial and unworrying circumstances as Mendelssohn.  Son of a banker, he was never wanting for material needs, yet even if he had not had these advantages his natural talents would surely have brought him to prominence.  His education included private one-on-one liberal arts education and even private philosophy instruction at the University of Berlin and further intellectual instruction with world renowned poet Johann Goethe. 
Musically, Mendelssohn resembled the pianist skills and early compositional talents of Mozart, mastering the fugues of Bach and associating with musical giants such as Moscheles (student of Salieri), Hummel (student of Mozart and Haydn), Cherubini, and Rossini.  By the time Mendelssohn was eighteen he was an accomplished painter and poet, and musically he had produced a substantial body of works. 
As a composer Mendelssohn was influenced by the works of J.S. Bach, Handel, and Mozart, rather than those of his contemporaries.  By the close of his career Mendelssohn emerged, along with Richard Wagner, as one of the fathers of modern conducting and the person who first put the works of J.S. Bach into mainstream performances.  In addition to serving as conductor of the Leipzig Gewandhaus Orchestra and the founder of the Leipzig Conservatory, Mendelssohn produced operas, incidental music, oratorios, sacred and secular cantatas, twelve sinfonias for strings, four symphonies, overtures and other orchestral works, concertos for violin and piano, chamber music, many keyboard works, choral works, songs and duets.
Mendelssohn's parents encouraged their talented young son, but they also wanted him to be a well-rounded adult, with a chance to see and learn from the wider world.  When the composer reached his twenty-first birthday, his father urged him to leave Germany on a series of travels, telling him "to examine the various countries closely," as Mendelssohn recalled,  "I was to make my name and gifts known, and was to press forward in my work." 
Living up to his father's wishes, Mendelssohn first journeyed to Great Britain in 1829, and wrote "NEXT AUGUST I AM GOING TO SCOTLAND, with a rake for folk songs, an ear for the lovely, fragrant countryside, and a heart for the bare songs of the natives."   The trip resulted in a number of compositions including the popular Hebrides Overture and the initial sketches of his Scottish Symphony.  He wrote about how his inspiration was ignited during his journey to Scotland:
In the evening in the deep twilight, we went today to the palace where Queen Mary lived and loved; there is a small room with a winding staircase leading up to it…. The adjacent chapel has lost its roof; grass and ivy grow thickly within; and on the broken altar Mary as crowned Queen of Scotland.  Everything there is in ruins ad ramshackle, open to the blue sky.  I think I have found the opening of my Scottish Symphony.
His exploration continued to Italy by May 1830, which caused Mendelssohn to take a ten-year detour from finishing his Scottish Symphony while he musically captured his new muse in his Italian Symphony (numbered Symphony No. 4).  Back in Berlin in 1842, he completed the Scottish Symphony (with additional revisions in 1843) and conducted the premiere performance in Leipzig and later a premiere in London.  The British audience loved the work so much that Mendelssohn was granted permission to dedicate the work to England's Queen Victoria, who Mendelssohn entertained with his piano works.
Despite the vivid explanation that was the impetus for the Scottish Symphony, Mendelssohn actually does not employ any authentic Scottish folk tunes.  The work is more of an atmospheric portrait and musical escape.  Opening with contemplatively somber sounds, the beginning is often referred to as the "Holyrood Castle theme" – the initial sketches that Mendelssohn composed.
The reflective quiet brews with a sense of passionate exoticism until the main theme allows transports us into a stormy fantasy world with galloping energy and occasional outbursts of excitement.  The movement comes full circle as the Holyrood Castle theme returns with a stillness.  The movements are all marked attacca – meaning there should be little to no pause between movements, and the first movement should proceed directly to the next. 
Seemingly taken directly from a Scottish folk song, the second movement uses the "Scotch snap" – a rhythmic figure where a quick note is on an accented beat followed by a longer note on an unaccented beat.  This lively jaunt was not lost on audiences, and the movement certainly stirred up their own sense of Scottish tunes and romantic sentiments.  The conventional slower third movement combines one of Mendelssohn's hallmark "song without words" melodies with a melancholy theme.  Some scholars suggest the solemn procession-like movement is a struggle between love and fate, perhaps representing the tragic story of Queen Mary.  The finale is a journey in itself.  Mendelssohn originally indicated the fourth movement's tempo as "guerrièro" ("warlike"), and later changed it to Allegro vivacissimo.  Either way, the opening of the last movement is energetic, and exudes a military vitality until it winds down to a reflective ending like the first movement.  Mendelssohn still has one more musical thought and launches an entirely new theme that almost becomes a hymn-like crusade begging for a men's chorus to lead the nostalgic charge of confidence, determination, and victory. 
Whether Mendelssohn lures us into his world with a musical postcard of his trip or creates more of a Scottish dream is not as important as the certainty that he captures our hearts and minds so we can enjoy an artistic escape and hopefully return rejuvenated.