Saturday, 24 October 2020
7:30 p.m. MST
(2020-10-25 1:30 a.m. UTC/GMT)
AARP HomeStream Your Helena Symphony
Conflict, hope, despair, and salvation are all captured in Beethoven's Overture to Egmont – a testament to heroes who are willing to stand up to tyranny and sacrifice themselves for the good of humanity.   Beethoven 250 continues with his First Symphony that started so much of his legacy.  From Moscow to Paris, Carnegie Hall to performances throughout the world, Russian Pianist Anna Kislitsyna makes her HSO debut with Shostakovich's witty and heart-wrenching Second Piano Concerto.
Watch live on YouTube.
24 October 2020
HELENA SYMPHONY ORCHESTRA
BEETHOVEN
Egmont, Op. 84: Overture
SHOSTAKOVICH
Piano Concerto No. 2 in F major, Op. 102
Ms. Kislitsyna, piano
I. Allegro
II. Andante –
III. Allegro
Intermission with backstage interviews
BEETHOVEN
Symphony No. 1 in C major, Op. 21
I. Adagio molto – Allegro con brio
II. Andante cantabile con moto
III. Menuetto – Trio: Allegro molto e vivace
IV. Finale: Adagio – Allegro molto e vivace
SHARE AND VIEW YOUR PHOTOS LIVE!
Share your viewing party photos live on our PhotoStream. To get started, text ON to 406.412.2014.
View PhotoStream
This concert is sponsored in part by generous support from:
Currently in his eighteenth season as Music Director of the Helena Symphony Orchestra & Chorale, Maestro Allan R. Scott is recognized as one of the most dynamic figures in symphonic music and opera today. He is widely noted for his outstanding musicianship, versatility, and ability to elicit top-notch performances from musicians. SYMPHONY Magazine praised Maestro Scott for his "large orchestra view," noting that "under Scott's leadership the quality of the orchestra's playing has skyrocketed."
Making her debut with the Helena Symphony Orchestra, Russian Pianist Anna Kislitsyna made her solo debut at age 10 with the Omsk Symphony Orchestra.  She remains in high demand as a soloist, collaborative pianist, and teacher.  Recent season highlights include returning to the Omsk Philharmonic, performance in Carnegie Hall, and a release of a new recording with PARMA Recordings.  Additionally, she has performed in the Kimmel Center, Philadelphia Academy of Music, Rachmanioff Hall of Moscow Conservatory, and Alfred Cortot Hall of Paris Conservatory.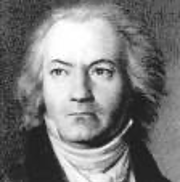 Born: Bonn, Germany, 16 December 1770
Died: Vienna, Austria, 26 March 1827
 "The Seventh Symphony is one of my very best and one of the happiest products of my poor talents."
— Beethoven
Egmont, Op. 84: Overture
Beethoven's Overture to Egmont is scored for piccolo, two flutes, two oboes, two clarinets, two bassoons, four horns, two trumpets, timpani, and divided strings.
Duration: 9 Minutes
Symphony No. 1 in C major, Op. 21
The First Symphony is scored for two flutes, two oboes, two clarinets, two bassoons, two horns, two trumpets, timpani, and divided strings.
Duration: 27 Minutes
U.S. annexes West Florida from Spain
Chile and Columbia declare independence from Spain
Napoleon has marriage with Josephine annulled and weds Austrian Princess Marie Louis
First U.S. fire insurance is organized in Philadelphia
Showman P.T. Barnum and composers Frederic Chopin and Robert Schumann are born
A tie in the popular vote between Thomas Jefferson and Aaron Burr causes the House of Representatives to narrowly elected Jefferson the 3rd U.S. President
U.S. Library of Congress is established
The White House is built and first inhabited by President John Adams
Abolitionist John Brown and U.S. President Millard Fillmore are born
Friedrich Shiller writes play Mary Stuart
Worcestershire Sauce is created and sold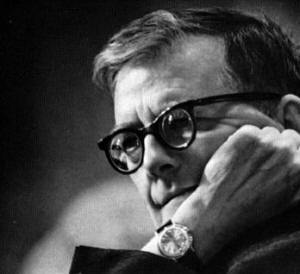 Born: St. Petersburg, Russia, 25 September 1906
Died: Moscow, Soviet Union, 9 August 1975

Piano Concerto No. 2 in F major, Op. 102
Shostakovich's Piano Concerto No. 2 is scored for solo piano, piccolo, three flutes, two oboes, two clarinets, two bassoons, four horns, timpani, snare drum, and divided strings.
Duration: 25 minutes
Dwight D. Eisenhower begins second terms as the 34th U.S. President
USSR launches Sputnik
U.S. first reports link between smoking and lung cancer
Jimmy Hoffa becomes president of the Teamsters Union
Jack Kerouac writes On the Road
John F. Kennedy's Profiles in Courage wins the Pulitzer Prize
Leonard Bernstein's West Side Story debuts
Jack Paar debuts as host of the Tonight Show
Leave It To Beaver and American Bandstand debut on television
Baseball team Brooklyn Dodgers move to Los Angeles
Actor Humphrey Bogart, comedian Oliver Hardy, conductor Arturo Toscanini, and bandleader Jimmy Dorsey
Some composers are often identified by their nationality or a national movement than by their own music.  Verdi was uniquely tied with Italian unity, Copland with the American frontier, and Shostakovich with the former Soviet Union. Described as "the conscience of the Soviet Union," Dmitri Shostakovich has become one of the most discussed figures in music since the composer's death, the collapse of the Soviet Union, and the turn of the 21st century.  Publicly Shostakovich was a member of the Communist Party and, unlike his Russian colleagues Prokofiev and Stravinsky who lived abroad, Shostakovich emerged because of, rather than despite of, the Soviet regime. Shostakovich's upbringing was rooted in music as his parents were both amateur musicians.  After graduating from the St. Petersburg Conservatory, Shostakovich felt the need to choose between a career as a pianist or composer.  Although composing did not come easily, he chose a career as a composer and quickly gained international attention with his First Symphony, which he composed when he was eighteen years old. Like any artist, Shostakovich's curiosities led him to seek other influences, especially the works of Prokofiev and Stravinsky who had become "Western-ized."  Shostakovich's discovery of modernism and post-modernism was quickly squashed by the Soviet government, as everything in the Soviet Union was viewed in political terms.  Soviet musicologists proclaimed that the new Soviet Union awaited "a composer whose melodies will touch the hearts of all sections of the populations and…will not only warm the concert hall but the streets and fields as well, because it will be music with roots deep in Russian life…" As Shostakovich's early musical efforts became internationally recognized, the Soviet Union was quick to capitalize on Shostakovich's success (how ironic!) and adopted Shostakovich as the country's "musical spokesperson."  His music would provide propaganda for the Soviet government and the communist way of life to an international community. The relationship between the Soviet government and Shostakovich was complex.  His music suffered two official denunciations and periodic bans of his work.  At one point, the Communist Party declared Shostakovich's music offensive and harmful to Soviet citizens as it contained "decadent Western manners" and "formalist perversions."  At the same time, he received a number of accolades and state awards, and served in the Supreme Soviet.  Shostakovich was reminded by the Stalin regime that his duty was to compose for the Soviet people and his works should provide inspiration for the communist way of life.   Despite the official controversy, Shostakovich remained the most popular Soviet composer of his generation. Shostakovich reacted, at least publicly, by accepting the political ideology of the Soviet government and composed several works that, at least superficially, embraced the communist regime.  He proceeded to speak out against Western music.  Looking back and seeing the dreadful alternatives, he had no choice.  While he composed some private works such as his string quartets and the tragic Tenth Symphony, Shostakovich mainly produced "acceptable" compositions, including the patriotic oratorio The Song of the Forests, the cantata The Sun Shines Over Our Land¸ and Symphonies five, seven (titled Leningrad), eleven (titled The Year 1905), and twelve (titled The Year 1917). After suffering from severe heart problems and from his life-long bout with tuberculosis, Shostakovich ultimately died a painful death from lung cancer.  His death coincided with the anniversary of the first performance of his Seventh Symphony and with the eleventh birthday of his grandson Dmitri, Maxim's son. Three decades after Shostakovich's death and less than twenty years after the fall of the Soviet Union, the West has rediscovered Shostakovich as a composer of immense integrity and of fearless perseverance and courage.  Today we realize that he spoke through a mask of conformism using musical codes.  Shostakovich gave the Soviet authorities what they demanded, yet deliberately maintained a musical expression that spoke to this audience – the people who were suppressed by the communist government.
Among Shostakovich's symphonic and chamber music output (fifteen symphonies, fifteen string quartets, operas, cantatas, etc.) it is surprising to find only two piano concertos, two violin concertos, and two cello concertos – and no others.  The violin and cello concertos were both written for particular soloists and friends – the violin concertos for violinist David Oistrakh, and the cello concertos for world renowned cellist Mstislav Rostropovich.  Shostakovich wrote his second piano concerto in 1957 as a birthday gift for his nineteen-year-old son, Maxim, to perform.  The concerto is the last, and most significant, of the pedagogical works Shostakovich wrote for his children; he also composed a series of short pieces for his daughter, Galina, (Children's Notebook) and a one movement piano concerto (Concertino for Two Pianos) for Maxim three years before the Second Piano Concerto. In many ways the Second Piano Concerto represents Maxim's coming of age and it was his performance of the work that helped him gain entrance into the Moscow Conservatory.  Even though Shostakovich remarked that his Piano Concerto No. 2 lacked any "artistic-ideological" merit, the Second Piano Concerto remained a staple of his own performance repertoire – recording it and giving dozens of public performances of the work. Maxim gave the premiere performance on his nineteenth birthday.  The work seemed to be composed to best display his particular keyboard skills.  It avoids traditional virtuosity and downplays the conventional opposition between soloist and orchestra in favor of constantly passing the themes and variations between both.  In most respects, it conforms to the usual three-movement structure and traditional tempos of moderate opening, slow second movement, and brisk climatic finale.  The first movement opens with a sprightly bassoon theme, followed by the soloist's entry with an equally perky tune.  As the movement merrily rolls along, the soloist exploits the extremes of the keyboard while the orchestra fills in the gaps until the movement makes a lighthearted march to the close of the first movement. In one of the loveliest movements Shostakovich ever wrote, the second movement is easily mistaken as a Rachmaninoff melody and void of the underlying melancholy that is usually associated with Shostakovich's reflective movements.  There are no moments of grandeur; only strings, piano, and a single horn are heard exchanging tender, lyrical lines.  The piano immediately segues into a fiery, final movement with several sections of rippling scales and arpeggios taken from well-known finger exercises for pianists (Shostakovich said it was the only way he could get his son to practice them!).  The strings and winds often play either theme as counterpoint to the piano's "exercises" until the movement races to a galloping conclusion with an infectious high spirit of youthful humor and mischief.