Saturday, 19 September 2020
7:30 p.m. MST
(2020-9-20 1:30 a.m. UTC/GMT)
AARP HomeStream Your Helena Symphony
The Helena Symphony returns along with the long-awaited and much-needed Opening Night! Romanian Cellist Ovidiu Marinescu, internationally-acclaimed and a Helena favorite, returns to perform Tchaikovsky's passionately charming Rococo Variations. We also launch BEETHOVEN 250 – celebrating the 250th birthday of one of humankind's most important artists – featuring the unrelenting rhythmic drive of Beethoven's Seventh Symphony as it transforms sorrow into joy. It's time to celebrate the healing power of music.
Watch live on YouTube.
19 September 2020
HELENA SYMPHONY ORCHESTRA
TCHAIKOVSKY
Variations on a Rococo Theme, Op. 33
Mr. Marinescu, cello
Moderato quasi Andante —
Thema: Moderato semplice —
Variation I: Tempo della Thema —
Variation II: Tempodella Thema —
Variation III: Andante sostenuto —
Variation IV: Andante grazioso —
Variation V: Allegro moderato —
Variation VI: Andante —
Variation VII: Allegro vivo
Intermission with backstage interviews
BEETHOVEN
Symphony No. 7 in A major, Op. 92
I. Poco sostento – Vivace
II. Allegretto
III. Presto – Assai meno presto – Presto
IV. Allegro con brio
SHARE AND VIEW YOUR PHOTOS LIVE!
Share your viewing party photos live on our PhotoStream. To get started, text ON to 406.412.2014.
View PhotoStream
This concert is sponsored in part by generous support from:
Currently in his eighteenth season as Music Director of the Helena Symphony Orchestra & Chorale, Maestro Allan R. Scott is recognized as one of the most dynamic figures in symphonic music and opera today. He is widely noted for his outstanding musicianship, versatility, and ability to elicit top-notch performances from musicians. SYMPHONY Magazine praised Maestro Scott for his "large orchestra view," noting that "under Scott's leadership the quality of the orchestra's playing has skyrocketed."
Internationally acclaimed Cellist Ovidiu Marinescu is a frequent soloist an audience favorite of the Helena Symphony.  As one of the outstanding musicians of his native Romania, Mr. Marinescu has performed at Carnegie Hall, Weill Hall, Merkin Hall (New York), the Great Hall of the Moscow Conservatory, Holywell Room in Oxford, Oriental Art Center in Shanghai, and many other prestigious places.   A frequent soloist, he has appeared with the New York Chamber Symphony, the National Radio Orchestra of Romania, Moscow Chamber Orchestra, Newark Symphony, Southeastern Pennsylvania Symphony Orchestra, Cleveland Philharmonic, Limeira Symphony in Brazil, Orquesta de Extremadura in Spain, and most of the orchestras in Romania.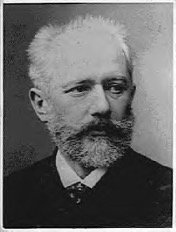 Born: Kamsko-Votkinsk, Russia, 7 May 1840
Died: St. Petersburg, Russia, 6 November 1893
Variations on a Rococo Theme, Op. 33
The Rococo Variations is scored for solo cello, two flutes, two oboes, two clarinets, two bassoons, two horns, and divided strings.
Duration: 18 minutes
Upon hearing the Variations on a Rococo Theme, composer Franz Liszt proclaimed, "Now there, at last, is real music!"
Colorado becomes 38th U.S. state
Thomas Edison patents the mimeograph
Rutherford B. Hayes is narrowly elected 19th U.S. President by one electoral vote even though he lost the popular vote
Alexander Graham Bell makes first telephone call
Brahms' First Symphony and Wagner's Ring Cycle premiere
Monet paints Dans La Prairie
Henrik Ibsen's play Peer Gynt premieres
Johns Hopkins University is founded
Cellist Pablo Casals is born
National League of Professional Baseball Clubs is founded
Many great Romantic artists are plagued by inner demons that haunt their lives and often destroy them.  Beethoven lost his hearing, Schumann lost his sanity, and Brahms was sickened with a broken heart.  Tchaikovsky, too, was stricken with his own inner turmoil.

As a sensitive, shy, yet eager child, young Tchaikovsky had turbulent formative years.  Forced to relocate throughout his childhood, Tchaikovsky and his brother were banished to a factory-like boarding school.  At the age of 14, he lost his mother, of whom he was obsessively fond, to cholera.  During his younger years he was prone to sudden fits of neurosis, ironically induced by the very music he loved.  In addition, the composer attempted to shield his homosexuality from the world with a failed marriage. It is not surprising, then, that Tchaikovsky suffered most of his life with a bi-polar disorder, and suffered through long bouts of depression.  He did eventually die in very unclear circumstances believed to be suicide.

After completing law school and practicing law for a few years, Tchaikovsky entered the St. Petersburg Conservatory as one of its first students.  He went on to teach at the Moscow Conservatory, and then made several conducting tours to Europe and the United States.

Tchaikovsky's music, primarily for orchestras and the stage (operas and ballets), is especially esteemed for its melodic skill, the dark cast of the harmonies and orchestration, and the use of Russian folk melody.  His works include such operas as Eugene Onegin and The Queen of Spades, ballets such as The Nutcracker, The Sleeping Beauty, and Swan Lake, six symphonies, tone poems, overtures, piano concertos, a violin concerto, choral works, string quartets, piano works, and songs.

Much of Tchaikovsky's music is often considered gloomy or self-indulgent due to the often vulgar sounds and orchestrations that are almost too rich. Tchaikovsky, however, had a deeply rooted love of life that is expressed in his music, especially his ballet scores, with their vigor, harmonic richness, and elegant beauty.

While teaching at the Moscow Conservatory, Tchaikovsky met German-born cellist and professor Wilhelm Fitzenhagen (1859-1930).  Fitzenhagen participated in the premieres of Tchaikovsky's three quartets and requested a work for cello and orchestra from Tchaikovsky.  Since the Russian school of cello playing was rising to new heights and because the cello is one of most melodic instruments, it seemed only natural that Tchaikovsky would be drawn to Fitzenhagen's suggestion.
The Variations on a Rococo Theme pay homage to Mozart as it is orchestrated for double winds, two horns, and strings, and it contains Classical timbres and structures.  The work premiered in Moscow on 30 November 1877 by Fitzenhagen, who later edited the work and reordered the variations, which is the more common edition performed. Associated with the Classical period of Mozart and Haydn, the term rococo (a word borrowed from art history and applied with little precision) refers to music, often 18th century French music, that exhibits a simplicity, grace, and lightness.  Even though Tchaikovsky's Rococo Variations contains elements of the rococo style, it does not escape the rich use of Romantic melody and color that is the hallmark of his writing.

The work begins with a quasi-introduction to establish to the tonality of the work (D major) and to set up Tchaikovsky's graceful theme followed by a transitional phrase the orchestra plays between variations.  The first two variations are constructed in a traditional Classical vein with the theme clearly projected, until the valse triste ("sad waltz") in Variation III makes a smooth transition back to the original key.  After the the virtuosic fourth and fifth variations, the solo cello performs two extended cadenzas (an unaccompanied difficult section to highlight the soloist) that complete these two cheerful variations.

Variations VI is a well-known variation, as it shows Tchaikovsky at his brooding best.  With a steady string accompaniment and occasional woodwind commentary, the cello sings out a reflective and melancholy song.  The seventh variation, Allegro vivo, awakens suddenly, leading to the finale in which the demands on the soloist reach their height, driving the charming work to a thrilling close.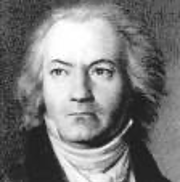 Born: Bonn, Germany, 16 December 1770
Died: Vienna, Austria, 26 March 1827
Symphony No. 7 in A major, Op. 92
Beethoven's Seventh Symphony is scored for two flutes, two oboes, two clarinets, two bassoons, two horns, two trumpets, timpani, and divided strings.
Duration: 38 minutes
 "The Seventh Symphony is one of my very best and one of the happiest products of my poor talents."
— Beethoven
War of 1812 between U.S. and Britain begins
Napoleon's troops are defeated by Russian armies
Massive earthquakes strike New Madrid, Missouri
Louisiana becomes 18th U.S. state
English novelist Charles Dickens and poet Robert Browning are born
Native American Sacagawea, who interpreted for Lewis & Clark, dies
Horse-drawn mower is patented
First recipe of tomato ketchup is published
Beethoven once described himself as someone "who did everything badly except compose music," and yet he aroused intense personal devotion not only by his music but by his personality, rough and ill-mannered, violent and wrong-headed though his actions often were.  The nature of his personality and the fact he was virtually uneducated, gave his musical utterance simplicity and a sincerity that are without parallel among the great composers. It is these qualities, combined with his strong sense of humanity and his inexhaustible power of striving for the ideal, that have earned him his unique place in affections of music-lovers of all types.

Dedicating himself principally to composition from the early 1800s, he supported himself partly by public concerts, in which he presented his works and his skill as an improviser, and partly through dedication fees, sales of publications, and generous gifts from patrons. Determined to survive as a free-lance musician, Beethoven eventually ended his career as a performer for full time composing due to the gradual onset of incurable deafness.

Like his musical idol, Handel, Beethoven embodied his own musical era and at the same time contributed to the overall progression of music in technique and artistic form.   Unlike Handel (and even Mozart) however, Beethoven did not have the luxury of speed and instantaneous perfection in his composing; several drafts, versions, and he needed to make edits to most of his works.  Certain pieces were often started, interrupted by other projects, and finished much later, at times several years later.  Beethoven's large output of works in all genres includes much occasional music, some of which is rather mediocre.  In every genre, however, there are works of the greatest mastery, and the finest of them are unmatched in originality and expressiveness.  His works include one opera (Fidelio), incidental music (Egmont, The Ruins of Athens), two ballets, nine symphonies, two mass settings (Mass in C and Missa Solemnis), oratorios, including Christ on the Mount of Olives, and other choral works, five piano concertos, a violin concerto, string quartets and quintets, chamber music with winds, sonatas for violin and cello, piano trios, 32 piano sonatas, many variation sets for piano, works for solo and duet piano, dance sets, concert arias and songs, and canons.
What chiefly distinguishes Beethoven from his predecessors is his personal connection to his art. Recognized as the father of the Romantic Era in music (the period between 1820 and the early 1900's), Beethoven is best understood by gaining an insight to his works, particularly his symphonies, string quartets, and the Missa Solemnis.

With Romanticism, the art and the artist are inseparable. This connection between art and artist is the driving force that most music has thrived on for the past two centuries, whereby music strives to attain the unattainable, the ideal, and the larger-than-life.

This is not to suggest that Beethoven surrendered the structures and forms established by Haydn and Mozart; on the contrary, Beethoven is regarded as the link between the Classical Era of form and reason and the Romantic Era of emotion over reason and art for art's sake.

Beethoven's own personal ideas, hopes, and faith, or lack of faith, are represented in his symphonic output. He wrestled with his own fate in Symphony No. 5; he strove to obtain ideal heroism in Symphony No. 3; and held true to the notion that the city of man can and should be equal to the city of God in Symphony No. 9.
By 1812 Beethoven was experiencing one of the most painful periods of his life.  His deafness was growing worse daily; his love affair with Theresa Brunswick ended; and he was financially broke.  Yet despite all this, Beethoven composed the rhythmic driven and triumphantly joyous Seventh Symphony.

Composed for a benefit performance for the Austrian and Bavarian soldiers returning from defeating Napoleon's armies, and for the most successful concert of his career, Beethoven's Symphony No. 7 is still considered one of the most energetic works of all time.  It is, however, not the melodies that are memorable, but the overall sense of forward motion.    In fact, there are times where there is no real melody at all, only relentless repetition of a single pitch that explodes with strength and vitality.  The introduction itself was not only one of the largest ever heard in any symphony at the time, but one of the most suspenseful and all by using simple chords and scales.  The grand introduction transitions with a single flute that propels the entire movement, perpetually driving with releases of emotional energy as it repeatedly boils over.

Technically there is no slow movement, however, the second (the traditionally slower movement) appears to be more relaxed than the first.  More than any other movement of the Seventh Symphony, the second movement captured the hearts of the audience at the premiere performance in 1813.  So much so, that they demanded an encore of the entire movement (not an uncommon practice at the time).  Again, using a simple idea, the second movement uses a plain, yet hauntingly beautiful melody set to an unforgettable rhythmic undercurrent that allows us to reflect upon our struggles without remorse.  In what seems to be utter spontaneity, the third movement (scherzo) breathlessly bounces irrepressibly without ever fading and boils over with the excitement of life.  Not to be outdone by what came before, Beethoven pulls out all the stops for the final movement that drives the exuberant Symphony to an uncontrollable roar.

As we all can relate during times of human suffering, such as the current pandemic, we need the sheer, raw power of explosive outbursts of joy in order to heal emotionally and spiritually.  Thankfully, Beethoven's Seventh provides us that, and we are grateful.