Saturday, 14 November 2020
7:30 p.m. MST
(2020-11-15 1:30 a.m. UTC/GMT)
AARP HomeStream Your Helena Symphony
Experience the music of Mozart's popular Overture to The Marriage of Figaro and his exciting Linz Symphony.  HSO Concertmaster Stephen Cepeda performs Beethoven's sublime Violin Concerto as part of the Symphony's Beethoven 250 – and all by candlelight.  Tune in and experience your Helena Symphony Orchestra.
Watch live on YouTube.
14 November 2020
HELENA SYMPHONY ORCHESTRA
SHARE AND VIEW YOUR PHOTOS LIVE!
Share your viewing party photos live on our PhotoStream. To get started, text ON to 406.412.2014.
View PhotoStream
MOZART
Le Nozze di Figaro, K. 492: Overture
MOZART
Symphony No. 36 in C major, K. 425, Linz
I. Adagio – Allegro spiritoso
II. Poco Adagio
III. Menuetto – Trio
IV. Presto
Intermission with backstage interviews
BEETHOVEN
Violin Concerto in D major, Op. 61
Mr. Cepeda, violin
I. Allegro ma non troppo
II. Larghetto —
III. Rondo: Allegro

This concert is sponsored in part by generous support from:
Currently in his eighteenth season as Music Director of the Helena Symphony Orchestra & Chorale, Maestro Allan R. Scott is recognized as one of the most dynamic figures in symphonic music and opera today. He is widely noted for his outstanding musicianship, versatility, and ability to elicit top-notch performances from musicians. SYMPHONY Magazine praised Maestro Scott for his "large orchestra view," noting that "under Scott's leadership the quality of the orchestra's playing has skyrocketed."
The 2020-2021 Season marks Violinist Stephen Cepeda's fifteenth year as Concertmaster of the Helena Symphony Orchestra. He has appeared as soloist with the HSO on several occasions, including performances of violin concertos by Sibelius, Mendelssohn, Brahms, Korngold, Britten, and Tchaikovsky. Performing with Maestro Scott, Mr. Cepeda appeared as soloist with the Southeastern Pennsylvania Symphony Orchestra on multiple occasions, and a performance the Lamont Symphony Orchestra at Denver University. In the summer of 2009, he completed a tour throughout Southeast Asia performing Mendelssohn's Violin Concerto, including a recital at the United States Embassy in Hanoi, Vietnam.
Born: 27 January 1756 in Salzburg, Austria
Died: 5 December 1791 in Vienna, Austria
Mozart's first collaboration with the Jewish poet and librettist Lorenzo da Ponte (Mozart's most distinguished librettist) was based on the play by Beaumarchais that was banned in Vienna because of its revolutionary sentiments of class warfare.
Composed by Mozart at the age of thirty, Le Nozze di Figaro first met with such excitement that nearly every movement was encored taking twice the length to perform.  It was later treated with mixed reception by Mozart's peers and their jealously had the opera withdrawn from performances.  After the opera moved from Vienna to Prague, it has never fallen out of favor.  Today, Figaro is regarded as one of the finest of all comic operas as well as one of the most universally popular – perhaps the most loved.
As a child prodigy, Mozart was immediately recognized as an unprecedented musical genius in every way.  Under his father's tutelage, the young Mozart became a virtuoso performer on the keyboard and violin.  By the age of eight, he had composed his first symphony and had toured most of Europe, performing for dignitaries, royalty, and other prominent composers of the day, who were simply in awe by the youth's abilities and imagination.
No other composer has ever mastered every musical form as Mozart did, and with such great ease.  For him, it almost seemed to be a nuisance or even a waste of time to transcribe his musical imagination onto paper.  Like Handel, although to an even higher degree, Mozart would develop and achieve perfection in his thoughts before his hand ever began to write.  Whereas most composers, even the great Beethoven, would go through countless drafts and revisions before competing a work.  For Mozart the first draft was the final draft.
In nearly 36 years of life, Mozart composed well over 600 works, including dozens of operas (both comedies and dramatic operas), many mass settings, choral works, songs, ballets, 41 symphonies, divertimentos, instrumental dances, marches, serenades, sonatas, 31 piano concertos, 8 violin concertos, and other concertos for flute, clarinet, bassoon, horn, even a new arrangement of Handel's Messiah, and a Requiem, his final work.
King of Prussia, Frederick the Great dies
Shay's Rebellion in Massachusetts
Scottish poet Robert Burns publishes first book of poetry
Most frequent visiting comet, Encke, is first observed
King of Prussia Frederick the Great dies
Wilhelm Carl Grimm, compiler of Grimm's Fairytales, American frontiersman Davy Crockett, Native American explorer Sacagawea and German composer Carl Maria von Weber are born
The Overture to The Marriage of Figaro is scored for two flutes, two oboes, two clarinets, two bassoons, two horns, two trumpets, timpani, and divided strings.
Duration: 4 minutes
Born into the Age of Enlightenment, the era of the American and French revolutions, and when liberty and fraternity were the centers of thought, Mozart's scores exhibit an order, balance, and structure associated with the Classical era that was led and fathered by composer Franz Joseph Haydn.
Le Nozze di Figaro is no exception.  From the opening moments of the overture, Mozart establishes this charming and witty work using the Classical structures of melody, dynamic balance, and harmony that draw the listener into an engaging story of comedy and intrigue.
Moreover, no opera composed before Figaro can be compared with it for development of ensemble, charm and novelty of melody, richness and variety of orchestration, and yet Mozart did this in a month's time.  The result is a comedy, yes, but more importantly a work with such musical prose that the sparkle of the comedy alternates with deeper sentiments of affection.
Figaro, as a narrative, combines elegance and subtlety with the more earthy elements of good theatre.  The delineation of character is more vivid and revealing than had ever been encountered before in comic operas.  The characters of the quick-witted Figaro, the wise and loving Susanna, the formidable Count, and the unhappy Countess spring to life in the music.  Not surprisingly, just as Mozart raised dramatic opera to new heights five years earlier with his dramatic opera Idomeneo, so did he transcend the Italian comic opera formula in Le Nozze di Figaro.
The story of Le Nozze di Figaro is the sequel to another Beaumarchais play – The Barber of Seville, which Rossini would later set to an opera thirty years later, making the latter story in a sense a prequel for audiences.  In The Barber of Seville, Count Almaviva, with substantial help from Figaro, wooed and won the lovely Rosina away from her crusty old ward and would-be husband, Bartolo.
Beaumarchais wrote his play La Folle Journé, ou Le Mariage de Figaro (The Crazy Day of the Marriage of Figaro) only two years before Mozart and da Ponte would collaborate on the opera.  No longer a barber, Figaro is now the Count's valet in a castle outside Seville.  The Count has been long marriage to Rosina, now the Countess, but their marriage has soured because of the Count's philandering.  Engaged to Susanna, Figaro spends the entire day trying to keep his fiancée away from the lecherous Count while the Countess and Susanna plot to catch the Count in his adulterous behavior.  Old Bartolo is back to seek revenge on Figaro for taking Rosina away from him, with the help of the slimy music teach, Don Basilio.  Adding to the fun are an amorous teenage boy, a scheming old maid, a drunken gardener, and a silly young girl.  From mistaken identities and misunderstandings to newly discovered parents, much happens on a single "crazy day."
With a brilliantly crafted libretto by da Ponte and one of Mozart's most astonishing masterpieces, the result is a witty yet profound tale of love, betrayal, and forgiveness.  The Overture captures spirit of fun and even silliness wrapped in the elegance of the time.  It remains one of the most recognizable overtures in all of music, and one of hallmarks of Mozart's music.
The American Revolutionary War against Great Britain ends with Treaty of Versailles
U.S. Continental Army dissolves
First American daily newspaper is published in Philadelphia
Kirov Ballet is founded
First hydrogen balloon flight
American pioneer Johnny Appleseed and American writer Washington Irving are born
Symphony No. 40 was originally scored for two oboes, two bassoons, two horns, two trumpets, timpani, and divided strings.
Duration: 26 minutes
1781 was a critical year for Mozart.  Setting out for Vienna, Mozart severed his ties to the court of the Archbishop of Salzburg, and more importantly, he freed himself from the provincial watchful eye of his father, Leopold.  Within a year, the 26-year-old composer married Constanze Weber, although he originally hoped to marry her old sister and talented soprano, Aloysia.  Although Leopold vehemently objected to the marriage, Mozart traveled to Salzburg to present his bride to his father.  After a fairly unpleasant visit, the Mozart's traveled back to Vienna.
During their travels, the couple stayed over in Linz, Austria's third largest city.  There they received a wonderful welcome, and a concert was arranged for Mozart to present his works.  Mozart immediately began composing a new work with fury inspiration, and within five days (an incredibly short amount of time even for Mozart), he created his Symphony No. 36.
For the first time, Mozart opens the Linz Symphony with a slow introduction, which became the trademark of Haydn's later symphonies.  After the more serious slower introduction, the first movement launches into a vibrant ride typical of Mozart's first movements to a symphony.  With another first for Mozart, the second movement includes trumpets and timpani, giving a mood of tragedy and drama to the elegant and traditional slower second movement.
The minuet of the third movement also has more characteristics of Haydn's heavier minuets, including a more celebratory feel by a sturdy dance-like tempo and the use of fanfares with the brass and timpani.  Finally, Mozart concludes his gift to the city of Linz with a spirited, brisk finale wrapped in boundless energy and wonderful good humor.
While the Linz Symphony was an incredible feat of quick creativity, the work is some of Mozart's most finely polished writing (and his longest symphony at the time).  The work also proved to be a nice respite from the disappointing visit with his father.  More importantly, Mozart proved to himself (and his father) of his stature as an artist.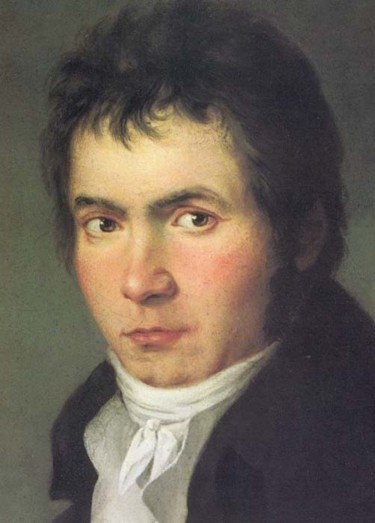 Born: Bonn, Germany, 16 December 1770
Died: Vienna, Austria, 26 March 1827
Violin Concerto in D major, Op. 61
Beethoven's Violin Concerto is scored for violin solo, flute, two oboes, two clarinets, two bassoons, two horns, two trumpets, timpani, and divided strings.
Duration: 42 Minutes
Explorers Lewis and Clark begin return trip from west coast
Napoleon banns all trade with England
British philosopher and economist John Stuart Mill is born
Apple cider and carbon paper are patented
Beethoven once described himself as someone "who did everything badly except compose music," and yet he aroused intense personal devotion not only by his music but by his personality, rough and ill-mannered, violent and wrong-headed though his actions often were.  The nature of his personality and the fact he was virtually uneducated, gave his musical utterance simplicity and a sincerity that are without parallel among the great composers. It is these qualities, combined with his strong sense of humanity and his inexhaustible power of striving for the ideal, that have earned him his unique place in affections of music-lovers of all types.

Dedicating himself principally to composition from the early 1800s, he supported himself partly by public concerts, in which he presented his works and his skill as an improviser, and partly through dedication fees, sales of publications, and generous gifts from patrons. Determined to survive as a free-lance musician, Beethoven eventually ended his career as a performer for full time composing due to the gradual onset of incurable deafness.

Like his musical idol, Handel, Beethoven embodied his own musical era and at the same time contributed to the overall progression of music in technique and artistic form.   Unlike Handel (and even Mozart) however, Beethoven did not have the luxury of speed and instantaneous perfection in his composing; several drafts, versions, and he needed to make edits to most of his works.  Certain pieces were often started, interrupted by other projects, and finished much later, at times several years later.  Beethoven's large output of works in all genres includes much occasional music, some of which is rather mediocre.  In every genre, however, there are works of the greatest mastery, and the finest of them are unmatched in originality and expressiveness.  His works include one opera (Fidelio), incidental music (Egmont, The Ruins of Athens), two ballets, nine symphonies, two mass settings (Mass in C and Missa Solemnis), oratorios, including Christ on the Mount of Olives, and other choral works, five piano concertos, a violin concerto, string quartets and quintets, chamber music with winds, sonatas for violin and cello, piano trios, 32 piano sonatas, many variation sets for piano, works for solo and duet piano, dance sets, concert arias and songs, and canons.
What chiefly distinguishes Beethoven from his predecessors is his personal connection to his art. Recognized as the father of the Romantic Era in music (the period between 1820 and the early 1900's), Beethoven is best understood by gaining an insight to his works, particularly his symphonies, string quartets, and the Missa Solemnis.

With Romanticism, the art and the artist are inseparable. This connection between art and artist is the driving force that most music has thrived on for the past two centuries, whereby music strives to attain the unattainable, the ideal, and the larger-than-life.

This is not to suggest that Beethoven surrendered the structures and forms established by Haydn and Mozart; on the contrary, Beethoven is regarded as the link between the Classical Era of form and reason and the Romantic Era of emotion over reason and art for art's sake.

Beethoven's own personal ideas, hopes, and faith, or lack of faith, are represented in his symphonic output. He wrestled with his own fate in Symphony No. 5; he strove to obtain ideal heroism in Symphony No. 3; and held true to the notion that the city of man can and should be equal to the city of God in Symphony No. 9.
When Beethoven composed his only Violin Concerto, he had already completed five concertos he wrote for his own performances (the first four of five piano concertos and his Triple Concerto for piano, violin, and cello).  Beethoven's career as a composer had skyrocketed three years earlier when he unveiled his Eroica Symphony, and then two of his most famous piano sonatas, his first version of his opera Fidelio, and his Fourth and Fifth Symphonies.
Composed for the twenty-six-year-old premiere violinist Franz Clement, Beethoven barely finished the Violin Concerto in time for the performance, with Clement practically site-reading the solo violin part.  In addition to the almost unbelievable ability to learn the massive solo part in hours, Clement also performed a couple of compositions of his own between the first and second movements of Beethoven's Violin Concerto, including a sonata on one string with the violin held upside-down!
While most of Beethoven's previous concertos were composed in the style of Mozart, the Violin Concerto was clearly making a new path.  Like his Eroica Symphony Beethoven surpassed the expectations and, for to audience members' shock and annoyance, put his Violin Concerto in an entirely new league of composition.  The first movement alone of the Violin Concerto is longer (almost a complete thirty minutes) than most complete concertos.  Beethoven transformed the concerto from a work of mere showmanship to a masterwork that requires the soloist to demonstrate the expected virtuosity with sensitivity, depth, restraint, and the highest craftsmanship of musicality.
As with most concertos that are composed for a particular person to perform, Franz Clement's graceful violin sound influenced Beethoven's writing.  Clement was not so much admired for a powerful sound as much as his lyricism, sensitivity, and ability to play in the extreme high registers with perfect intonation.  Beethoven's Violin Concerto reflects other styles as well, including the contemporary French violin school, where an overall sense of nobility, grandeur, massive sonorities, and even heroic or processional permeates the work.
Opening with five soft beats on the timpani, the opening measures proclaim it as being at once expansive and dramatic.  In the same way Beethoven provided a twist on the conventional procedure in his Fourth Piano Concerto by allowing the pianist to begin with a solo gesture, in the Violin Concerto Beethoven gave the first movement a spin by presenting a lengthy orchestral opening so leisurely that one virtually forgets there is a soloist.   As the opening timpani taps unfold into the thematic material of the movement, the violin solo enters after great suspense then remains the focus for the entire movement.   The lengthy first movement has been said to move "between sunshine and shadow" as there are extreme heights of tenderness to defiance.
Beethoven uses a series of variations for slow movement and achieves a level of lyrical beauty found in few of his works before or after the Violin Concerto.  The movement takes the Violin Concerto to an entire new level where the violin solo and orchestra seem to exist in a dreamy, poetic dialogue.  In the hymn-like movement, the theme is carried almost entirely by the orchestra with the solo violin providing intricate commentary in what renowned music critic Sir Donald Tovey proclaims is "one of the cases of sublime inaction achieved by Beethoven and no one else."
An abrupt outburst from the full orchestra interrupts the second movement, and the violinist's cadenza (unaccompanied virtuosic solo) segues to the entrance of the third movement.  In a robust, dance-like, folk song, the violin solo introduces the theme as the horns complement the opening of the movement with hunting calls.  As the final movement progress, the soloist displays increasingly more and more virtuosity ending with another flashy unaccompanied solo until the soloist gets one last charming and playful restatement of the original theme just before the final chords.
The public gave Beethoven's Violin Concerto a lukewarm reception and one critic said that "Beethoven could put his undoubtedly great talents to better use."   While a few other violinists performed the work, it did not become universally accepted as the premiere violin concerto until the twelve-year-old Joseph Joachim (the famous violinist for whom Brahms composed his violin concerto) performed the work in London in 1844 with Felix Mendelssohn conducting.  As with Beethoven's nine symphonies, no other composer dared to compose a violin concerto of similar character and proportions until Brahms produced his own violin concerto more than seventy years later.  Most importantly, it was Beethoven's vision for his Violin Concerto that gives the work its hallmark.  Like his Romantic symphonies, Beethoven allows art, virtuosity, and larger-than-life ideas to dominate, and the result is nothing short of the most prolific violin concerto ever composed.