Saturday, 29 January 2022 7:30 p.m. MST Helena Civic Center
Watch live on YouTube. Saturday, 29 January 2022
Internationally renowned Pianist and Van Cliburn Gold Medalist Jon Nakamatsu returns to perform Ravel's emotionally delicate and jazz-infused Piano Concerto. The captivatingly lush and optimistic Fifth Symphony of Englishman Ralph Vaughan Williams sings with emotional strength and spirituality.
HELENA SYMPHONY ORCHESTRA
Currently in his nineteenth season as Music Director of the Helena Symphony Orchestra & Chorale, Maestro Allan R. Scott is recognized as one of the most dynamic figures in symphonic music and opera today. He is widely noted for his outstanding musicianship, versatility, and ability to elicit top-notch performances from musicians. SYMPHONY Magazine praised Maestro Scott for his "large orchestra view," noting that "under Scott's leadership the quality of the orchestra's playing has skyrocketed."
The distinguished American Pianist Jon Nakamatsu – known internationally for the panache and elegance of his solo, concerto, and chamber performances – has become a favorite with audiences throughout the world.  Mr. Nakamatsu's recent performances as soloist include Austin Symphony, Santa Cruz Symphony, Fort Worth Symphony under the aegis of the Cliburn, and Symphony Silicon Valley. He has collaborated with the Miró Quartet in two programs at the Cape Cod Chamber Music Festival and appeared in chamber concerts with the Jupiter and Modigliani Quartets, as well as Imani Winds. Recital performances include engagements with the Steinway Society of the Bay Area, International Classical Concerts of the Desert, Reynolds Chamber Concerts, and Chamber Music San Francisco. Mr. Nakamatsu has been an active guest soloist with leading orchestras throughout his career, including the Annapolis Symphony Orchestra, Berlin Philharmonic, Boulder Philharmonic Orchestra, Cape Cod Symphony, Dallas Symphony Orchestra, Detroit Symphony Orchestra, Fresno Philharmonic, Greenwich Symphony Orchestra, Hawaii Symphony Orchestra, Los Angeles Philharmonic, Milan Symphony Orchestra, Orquesta Sinfonica Nacional de Chile, San Francisco Symphony, Seattle Symphony, Tokyo Philharmonic Orchestra, Toledo Symphony, and Vancouver Symphony, among many others. His numerous summer engagements have included appearances at the Aspen, Tanglewood, Ravinia, Caramoor, Vail, Wolftrap, Colorado, Aloha International Piano, and Britt festivals, as well as the Chautauqua Festival, where he has served as Artist in Residence since the Summer of 2018.  A high school teacher of German with no formal conservatory training, Jon Nakamatsu's electrifying performance of Rachmaninoff's Third Piano Concerto won him the Gold Medal at the 1997 Van Cliburn International Piano Competition amidst a field of experienced competition warriors. Mr. Nakamatsu is a graduate of Stanford University with a bachelor's degree in German Studies and a master's degree in Education. In the fall of 2016, Jon Nakamatsu joined the piano faculty of the prestigious San Francisco Conservatory of Music.
Due to the recent increase in COVID-19 cases and new variants emerging in Lewis and Clark County and the United States, the Helena Symphony will take necessary precautions to keep our musicians, staff, and audience protected. The Helena Symphony will continue to follow CDC guidelines throughout Season 67 and monitor the daily transmission rates within our county. When the transmission rate is high or substantial, audience members will be required to wear a mask while in the concert hall. On concert nights when the transmission is moderate or low, individuals will be encouraged to wear a mask, but are not required to do so.
Each member of the Helena Symphony Orchestra & Chorale will be tested prior to rehearsals and prior to each concert. This will ensure each musician present on stage is negative for COVID-19. The Helena Symphony will continue to work closely with the county health department and the city of Helena throughout the Season to ensure the safety of our musicians, staff, and audience. If you have questions about how the Helena Symphony will be adapting to the evolving COVID-19 situation this Season, please call our office at 406.442.1860.
About the Program – By Allan R. Scott ©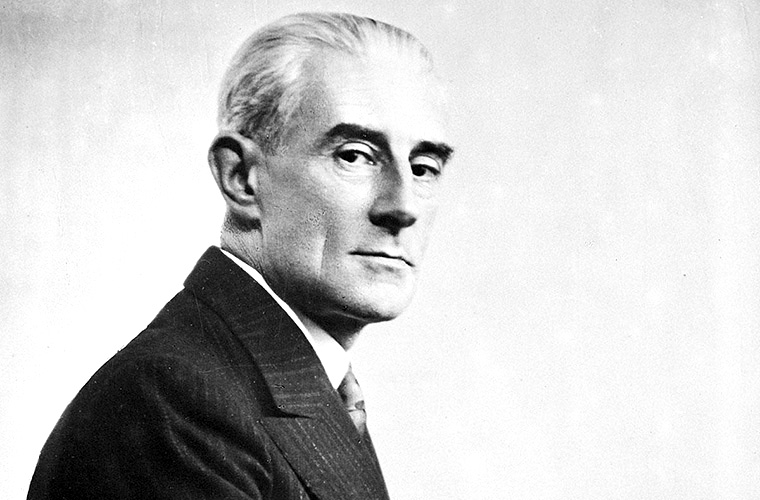 Nazi Party wins election in German legislature Height of Depression in U.S. Franklin D. Roosevelt is elected 32nd U.S. President Charles Lindbergh's baby is kidnapped and murdered Kodak releases 8 mm film for home movies Amelia Earhart flies solo across Atlantic Earthquake kills 70,000 in China Picasso paints Girl Before a Mirror Hemingway writes Death in Afternoon Films Scarface and Night After Night premiere Author John Updike and Senator Edward Kennedy are born Composer John Philip Sousa dies
Born: Down Ampney, England, 12 October 1872 Died: London, England, 26 August 1958
Piano Concerto in G major Ravel's Piano Concerto is scored for solo piano, piccolo, flute, oboe, English horn, E-flat clarinet, clarinet, two bassoons, two horns, trumpet, trombone, timpani, triangle, snare drum, bass drum, tam-tam, cymbals, wood block, whip, harp, and divided strings.
Duration: 22 minutes
There are very few composers who have the true gift of orchestrating a piece of music like a painting – complete with invention, craft, precision, and perfection of color. Maurice Ravel, one of the most quintessentially French composers, possessed the rare ability to express the ultimate goal of any artistic language: to capture the inexplicable or inexpressible through the delicate balance of craft and inspiration.  Like many other French artists of the late 19th and early 20th centuries, Ravel was fascinated by Spanish culture, for Ravel's mother was Basque and spent most of her youth in Madrid. The influence from the exotic lifestyles of Spain balanced well with Ravel's love of precision, sense of symmetry, order, and perfection that came from his father's engineering background.  As a student of Gabriel Fauré, the true predecessor of the musical impressionist era of Debussy, Ravel learned the intricate and rich colors of harmony and orchestration at the Paris Conservatory. Yet despite his seemingly perfect orchestral works, Ravel did not want to be recognized for his dazzling precision of technique; for Ravel, that meant dry, detached, and artificial, rather than warmly human and inspired image.  What Ravel wanted his peers and audience to remember was that his technique was merely a means to an end, and his music reveals all the tenderness and human emotion that lies inside the very private composer. Ravel proclaimed that "music made only with technique and intellect loses its special quality as the expression of human feeling. Music should always be first emotional and only after that intellectual." Ravel, who never married, remained a reserved and emotionally quiet man. Accordingly, any account of his life, to a large extent, is a list of external events. He suffered a tragic end for he was stricken with severe insomnia and anxiety, and rapidly lost the ability of certain physical movements (known today as Pick's disease), which prevented him from composing the last few years of his life.  Ravel, in addition to orchestrating several other composers' works (such as Mussorgsky's Pictures at an Exhibition), is best known for his two operas, the ballet Daphnis et Chloé, chamber works, several solo piano works and songs, and orchestral works including La Valse, Rapsodie Espagnole, Schéhérazade, the very popular Boléro, and two piano concertos. Ravel's two piano concertos (the Piano Concerto in G major and the Piano Concerto for Left Hand) were his last major compositions, and he worked on them simultaneously over several years. In 1929, while still healthy, Ravel completed a successful American tour and decided to write a work to display his own piano virtuosity.  "It was written very much in the spirit as those of Mozart and Saint-Saëns," explained Ravel. "The music of a concerto should, in my opinion, be light- hearted and brilliant, and not aim at profundity or dramatic effects." As such, Ravel composed the Piano Concerto using merely a handful of winds, two horns, one trumpet, one trombone, and only 32 strings – an ensemble similar in size to a Mozart work. From the playful piccolo solo that opens the work to the roller coaster ride finale, Ravel incorporates many styles that interested him throughout his career. The first movement incorporates the Basque flavor themes drawn from his mother's ancestry, Spanish style rhythms, and even "blue" notes recalling jazz and sounds of American music, specifically the works of Gershwin.  An extended solo opens the second movement displaying one of the most understated, expressive piano solos. The entire movement barely gets above a soft dynamic until the third movement breaks the mood bringing a thrilling, energetic conclusion.  Tragically, Ravel never played the premiere performance. While preparing for the work, he became more and more exhausted and fatigued – the early signs that his dementia disease was progressing. Ironically, the composer who kept most of his inner emotions trapped inside himself became trapped artistically from expressing any of his musical ideas. Upon listening to his own music the year he died, Ravel said in tears: "I've still so much music in my head."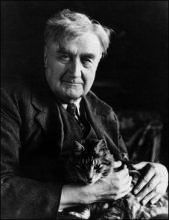 Height of World War II in Europe and the Pacific
Italy surrenders to Allies
Aaron Copland composes his Fanfare for the Common Man
Béla Bartók composes his Concerto for Orchestra
Picasso paints First Steps
Leonard Bernstein first conducts the New York Philharmonic as a last-minute substitute
Composer and Pianist Rachmaninoff dies
Rodgers & Hammerstein's Oklahoma! premieres
Born: Cibourne, France, 7 March 1875 Died: Paris, France, 28 December 1937
Symphony No. 5 in D major Vaughan Williams' Symphony No. 5 is scored for piccolo, two flutes, oboe, English horn, two clarinets, two bassoons, two horns, two trumpets, three trombones, timpani, and divided strings
Duration: 42 minutes
Born into a family with strong intellectual ancestry (lawyers on his father's side and Charles Darwin on his mother's), Ralph (pronounced Rafe) Vaughan Williams studied organ, piano, and music theory at a fairly young age. By the age of 15, he had already decided to become a composer and after hearing a performance of Wagner's Die Walküre and Tristan und Isolde he was so impressed and overwhelmed that his long career as one of England's greatest organists, composers, and teachers began.  Studying under other British greats, such as Charles Stanford and Hubert Parry, and major composers such as Max Bruch and Maurice Ravel, Vaughan Williams and classmate Gustav Holst forged a friendship that would prove to be one of Vaughan Williams' most influential relationships. He was fortunate enough to have private income, although he devoted himself to composition in a professional manner, working regular hours, setting high standards for himself, and revising extensively. He was also in demand as a scholar, contributing articles to Grove's Music Dictionary, giving lectures, and editing the English Hymnal (1906), where Vaughan Williams contributed several tunes inspired by his lifelong interest in English folk melody.  His music was profoundly affected by the melodic shape, rhythmic character and, above all, the atmosphere which he found in folk song: "The art of music above all other arts is the expression of the soul of a nation," he declared. Vaughan Williams' collected works include incidental music and film scores, nine symphonies, Fantasia on a Theme by Thomas Tallis, The Lark Ascending for violin solo and orchestra, Fantasia on Greensleeves, many songs and choral works, settings of carols and chamber music, and several operas including Sir John in Love, Riders to the Sea, and The Pilgrim's Progress. After his military service as a medical orderly during World War I, Vaughan Williams joined the teaching staff of the Royal College of Music, became the conductor of the Bach Choir, and made his American conducting debut with a performance of his Pastoral Symphony.  During the last thirty years of his life, the prolific composer's reputation grew in fame and honors, and was eventually dubbed at the age of 85 the "grand old man of English music." Vaughan Williams was in some sense a nationalist composer, like Bartók in Hungary, Verdi in Italy, or Manuel de Falla in Spain. He wrote in 1942 that "the love of one's country and customs was essential." But folk music never shackled his individuality, and works such as his Fourth, Fifth, and Sixth Symphonies are English-sounding only in a way in which a Brahms' symphony sounds German.
In 1952, Vaughan Williams was asked to choose one of his symphonies for his 80th birthday concert – without hesitation he selected his Fifth Symphony. While so many of his works are certainly very "English," his Symphony No. 5 captures his own sense of Englishness and distinct musical language. Experiencing a performance today almost conjures up a grand film score or landscape of a world of decades ago. While the symphony maintains the conventional abstractness of the genre, it does make many references to well-known English hymns and Vaughan Williams' opera The Pilgrim's Progress. While not completed until almost a decade after the Fifth Symphony, the opera (which Vaughan Williams referred to as a "morality") is based on the 17th century Puritan preacher and writer John Bunyan's theological fiction of the same name.  The Fifth Symphony hauntingly begins with a pair of horns giving a sense of ambiguity and even an internal struggle as there is a back and forth between the keys of C and D as well as major and minor. Before the first movement comes full circle, Vaughan Williams quotes from the popular hymn "For All the Saints" (which he arranged for the 1906 English Hymnal). Vaughan Williams originally called the second movement the "Exit of the Ghosts of the Past." While perhaps not very "ghostly," the more upbeat tempo second movement percolates with an anxious, swirling energy under a more assured, lush melody with momentary, brassy episodes.  The emotional soul of the entire work is the famous third movement – Romanza. Vaughan Williams directly attributed this movement to The Pilgrim's Progress and even inscribed Bunyan's text into the score:  Upon this place stood a cross,  and a little below a sepulcher.  Then he said:  "He hath given me rest by his sorrow,  and life by his death." He even quotes a musical line from the opera where the character sings "Save me, Lord, my burden is greater than I can bear." The Romanza is nothing short of a universal prayer that is soul-searching, quietly heart-breaking, and simultaneously reassuring.  As Brahms uses in the final movement to his Symphony No. 4, Vaughan Williams employs a passacaglia (the 17th century Spanish musical form that is in triple meter over a repetitious bass line) and creates almost a musical ritual of purification. The movement evolves into a triumphant theme using the hymn tune "All Creatures of Our God and King" before the entire work departs the way it began, but without the inner turmoil – leaving only serenity and relief.